The Best Use of ELVIS Music in recent movies
- EIN Spotlight - by Piers Beagley
---
The 10 Best Uses Of Elvis Songs In Movies - Movie blog Screenrant have recently posted an interesting look at the use of Elvis' music in recent movie productions.
.. With Baz Luhrmann's ELVIS biopic in production it's a good time to revisit some of the best times the King's music was used in movies.
One of the most revered cultural icons of the 20th century, Elvis Presley is the bestselling solo musical artist of all time, has been crowned the "King of Rock and Roll," and holds the record for the most albums certified gold or platinum by the RIAA.
Starting with his debut in Love Me Tender, Presley was one of the first musical artists to prove that musicians can star in movies to boost their profile on the music scene.
But outside his own films, Elvis' music has been used to create a bunch of great movie moments.
EIN lists Movie blog Screenrant's Top Ten and also adds EIN readers favourites
We want to know what is

YOUR CHOICE

for the 'The Best Use Of Elvis Songs In Movies'
What about 'Passengers' with 'A Little Less Conversation' or 'The Conjuring' with 'I Can't Help Falling In Love' or 'Lilo & Stitch' or Men In Black with 'Promised Land'?
Click here to send us

Your Comments

/ thoughts and we will add them to this spotlight.
In the first two decades after his untimely death it was rare to hear an Elvis song in a new feature film - and certainly not in a TV advert.
EPE / BMG seemed reluctant to licence Elvis' music which is strange considering the amount of sub-standard Elvis products they were pumping out to fans. Did they not realise the potential marketing value or was this an idea not to cheapen his original recordings?
After all even 'Honeymoon In Vegas' (1992) featured people doing covers of Elvis songs.
'3000 Miles To Graceland' (2001) similarly only used Elvis' 'Such A Night' in the final credits.
(Note, Francis Ford Coppola's 1983 'The Outsiders' seems to be the exception to the rule).
But everything changed in 2002 with 'A Little Less Conversation' hitting number one all around the world – and it was a remix!
In the movies Lilo & Stitch (2002) was possibly the real turning point and others followed. Film producers had discovered that using ELVIS in movie soundtracks could be a powerful and positive idea. It was no longer a surprise to hear an Elvis song on a new movie soundtrack.
Perhaps the worldwide smash of 'ALLC' really did change their marketing minds.
The 10 Best Uses Of Elvis Songs In Movies - by movie blog Screenrant.
10 - "A Little Less Conversation" in Ocean's Eleven
George Clooney, Brad Pitt, Matt Damon, and a handful of other A-listers replaced the Rat Pack in Steven Soderbergh's remake of the classic heist movie, Ocean's Eleven.

"A Little Less Conversation" plays on the soundtrack over various slick-looking aerial shots of Las Vegas before the team convenes for the first time.
9 - "Viva Las Vegas" in The Boss Baby
DreamWorks 'The Boss Baby' was surprisingly successful back in 2017. The premise of a corporation run by babies that controls the universe is ridiculous, but it paved the way for a healthy balance of absurdism and adorableness.

In the scene in which Tim and the Boss Baby disguise themselves as Elvis impersonators to get onto a flight to Vegas, Elvis' "Viva Las Vegas" plays on the soundtrack.

8 - "Santa Claus Is Back In Town" in The Long Kiss Goodnight
Starring Geena Davis and Samuel L. Jackson, The Long Kiss Goodnight is an underrated gem of action cinema. It was penned by Shane Black, the acclaimed screenwriter who created the Lethal Weapon franchise.
Like all of Black's other movies, The Long Kiss Goodnight takes place around the holidays. In that spirit, Elvis Presley's "Santa Claus is Back in Town" appears on the soundtrack.

7 - "How's The World Treating You" in 'Wild'
Based on Cheryl Strayed's memoir of the same name, Wild stars Reese Witherspoon as Strayed, a divorcée and inexperienced hiker who decided to trek over 1,000 miles along the Pacific Trail in the hopes of finding herself.


During the journey, the movie cuts in various flashbacks as Strayed reflects on her past. Elvis Presley & the Jordanaires' "How's the World Treating You" is a well-placed soundtrack pick.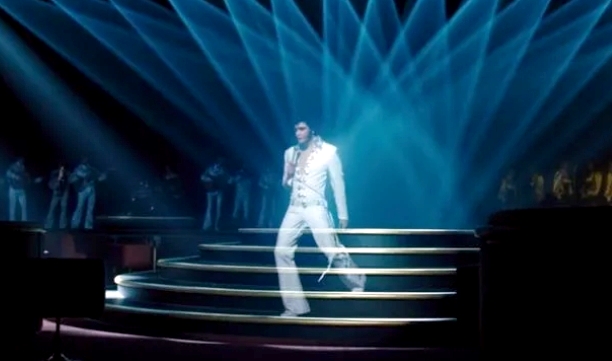 6 - "Suspicious Minds" & "Can't Help Falling In Love" in Blade Runner 2049
ETA Ben Thompson played Elvis in Denis Villeneuve's 2017 futuristic Blade Runner 2049. When Officer K finds Rick Deckard living in an abandoned Vegas casino, there's a hologram of Elvis performing to an empty audience.
During the fight across the casino, the hologram malfunctions in the middle of a performance of "Suspicious Minds" and instead plays one of Deckard's favorites, "Can't Help Falling in Love."

5 - "Hound Dog" in Forrest Gump
Throughout the revisionist history of Forrest Gump, the title character crosses paths with a number of 20th-century icons, from John Lennon to John F. Kennedy. In one early scene, a young, struggling Elvis stays at Forrest's mother's B&B.
Presley's iconic leg-swinging dancing style is shown to be inspired by Forrest's movements in his leg braces.

4 - "Blue Suede Shoes" in Rocketman
In the visually stunning Elton John biopic, Rocketman, when a young Reggie Dwight first shows an interest in rock music, his mother gives him a copy of Elvis Presley's debut album.
Elvis' debut RCA album is thrust into the camera lens, "I know you like him, he's quite a dish" his mother says, When Elton (Reggie) is told he'll need a "proper haircut" if he wants to be a "rock-and-roller" Elton replies "Can I get it cut like Elvis?"

The first track he plays from the album is "Blue Suede Shoes" offering an interesting glimpse into his early influences.
3 - "Heartbreak Hotel" in This Is Spinal Tap
Most of the music featured in the iconic mockumentary This is Spinal Tap is played by the eponymous fictional group, touted as "Britain's loudest rock band."
But in one scene, the band members visit Elvis Presley's final resting place in Graceland and sing a rendition of his classic track "Heartbreak Hotel" at his graveside.
2 - "Mystery Train" in The Outsiders
Francis Ford Coppola's most famous movies are about Italian-American mobsters and soldiers in Vietnam, but one of his most underrated films, The Outsiders, revolves around greasers.

Since Elvis Presley was hugely influential on greaser culture, Coppola used a ton of his music on the soundtrack.

While "Mystery Train" is the best-used Elvis song in this movie, there are a bunch of others on the soundtrack: "Tomorrow is a Long Time," "We're Gonna Move," "Milky White Way," "When It Rains, It Really Pours," and an alternate recording of "Blue Moon."
1 - "Jailhouse Rock" in The Blues Brothers
In the final act of The Blue Brothers, Jake and Elwood Blues race into Chicago to pay their orphanage's tax bill and get them back in the black, pursued by dozens of police cars. As soon as they get the tax receipt stamped, they're arrested and thrown in jail.

In the movie's iconic closing scene, when the titular band is back behind bars, they perform a rendition of "Jailhouse Rock" for their fellow inmates.

The band featured bassist Donald 'Duck' Dunn who had worked with Elvis at Stax.

Go here to screenrant for the full article by Ben Sherlock
EIN readers have also suggested their own favourite Elvis Movie Moments.
From Matthew C.
'Don't' was used in Absolute Power (1997) Clint Eastwood thriller, a movie where Gene Hackman is the US President assaults a married woman in his room who stabs him but is then shot herself… song seems very appropriate now in a time when "no means no"...
From Arthur D.
'True Romance' should be mentioned although I think 1993 was before EPE decided to readily licence Elvis' music in films.
The film kicks off with Charlie Sexton's 'Graceland' sounding so much like Elvis at SUN studios.
The music in that film was so cool and showed a great sensibility, even down to the credits with Chris Isaak (love that guy). The film stars Christian Slater and Patricia Arquette with Dennis Hopper, Gary Oldman, Brad Pitt, and Christopher Walken. Val Kilmer played the ghost of Elvis (above). Tarantino penned a great bit of pulp fiction there, the pre-cursor to the film he directed and wrote a few years later which also featured an Elvis connection.
From Piers B
'Suspicious Minds' in the Coen brothers 2003 comedy 'Intolerable Cruelty' was brilliant placing.
With George Clooney and Catherine Zeta-Jones and a tongue-in-cheek storyline of divorce, emotional breakdowns, infidelity and prenuptial agreements 'Suspicious Minds' was perfect.
Not knowing the song was in the movie, I laughed out loud when it started.
From Jan B
'A Little Less Conversation' in 'Passengers' (2016 science fiction) staring Jennifer Lawrence and Chris Pratt.
Stuck alone drifting through space there really is nothing to have a conversation about. Mid movie there is a "Dance-off" and 100 years in the future they are still dancing to Elvis. Brilliant.
Check youtube clip here.
From Steven P
Someone has to mention 'Elvis Has Left the Building' (2004 black comedy) as it include a pile of Elvis music. It stared Kim Basinger as a cosmetics saleswoman who accidentally kills a bunch of Elvis impersonators - and who can blame her!!
Tom Hanks does a cameo as one of the Elvis impersonators!

The film opens with ELVIS playing n the radio as Kim Basinger drives through the open countryside.
Great to hear songs like 'It's A Long Lonely Highway', 'Return to Sender' and even 'Follow That Dream' in a modern movie.
The poster helps explain it all.
From Susan T
I loved hearing elvis in 'Lilo & Stitch. I took my kids to the film and they thought Elvis signing in a cartoon was a blast. I bought the CD.
It had songs like 'Stuck on You', 'Heartbreak Hotel' and 'Devil in Disguise' great for kids.
'Lilo & Stitch' 2002 Walt Disney cartoon - Hawaii, outta space, crazy adventures, and Elvis, what's not to love.!
From Barry S
The use of Elvis in the movies needs to credit Jim Jarmusch' 'Mystery Train' from 1989.
An astounding film all about a Japanese couple on a pilgramage to Memphis and the ghost of Elvis is everwhere.
Also featured Joe Strummer of The Clash, Steve Buscemi, Rufus Thomas and amazing performance from Screamin' Jay Hawkins.
What a cast.
Elvis' haunting 'Blue Moon' is a real feature of the soundtrack - not to forget Mystery Train itself.
Spotlight compiled by Piers Beagley.
-Copyright EIN March 2021
EIN Website content © Copyright the Elvis Information Network.
---
---
---
Blue Hawaii - The Movie: Released 60 YEARS ago Blue Hawaii is the movie that most "serious" Elvis fans hate to love, although it is one of Elvis' most successful films. After the 1960 dramas of Flaming Star and Wild In The Country, Blue Hawaii was a return to the musical fluff first seen in GI Blues. While Elvis craved dramatic interest and acting challenges the general public thought otherwise.

Fifty years on, EIN contributor Harley Payette takes an in-depth look at Blue Hawaii and wonders if this film really was the beginning of the end - or perhaps first class family entertainment.

See if you agree. - - Click here for the review plus some great Hawaii photos

(Spotlight, Source;Harley Payette/ElvisInfoNetwork)
---
---
---
EIN Website content © Copyright the Elvis Information Network.
Elvis Presley, Elvis and Graceland are trademarks of Elvis Presley Enterprises.
The Elvis Information Network has been running since 1986 and is an EPE officially recognised Elvis fan club.
Did you miss these Popular EIN Reviews
'Walk A Lonely Street' Book Review:
'From Elvis in Nashville' Box-set EIN In-Depth Review:
(Book Review) 'Technicolor to Black & White' (Jean-Marie Pouzenc):
(Book Review) Destined to Die Young (Sally Hoedel):
(Book Review) Beyond the Stars: My Seven Year Journey with Elvis Presley (Grace Pearl):
(Book Review) From Elvis in Memphis (Eric Wolfson):
'TTWII 50th Anniversary Collectors Edition' FTD Book Review:
'The Elvis Is Back! Sessions' Deluxe FTD Review:
(Book Review): Elvis Roots, Image, Comeback, Phenomenon (Mark Duffett):
"ELVIS 1969" Documentary -

EIN Review:
'Elvis: St Louis & Spokane 1976' FTD In-Depth Review:
'Elvis Reborn: New Mono to Stereo' CD In-Depth Review:
'INSIDE ELVIS' - Book Review:
'Elvis: Live in California' May 1974 FTD Review:
MRS 'Elvis:Back In Living Stereo' in-depth Review:
'The Guitar Player Worth A Damn' - The King In Motion Vol. 4 (Venus Productions):
(Book Review) Elvis and Ginger:
'Final Countdown To Midnight' jewel-case Versions

Review

:
'Elvis Files Magazine ISSUE 8' Review:
(Book Review) Memphis Mafia Princess:
'Final Countdown To Midnight' NYE 1976 - in-depth Review:
'Elvis Films FAQ' Book Review:
'The On Stage Season' FTD In-Depth Review:
'Love Me Tender' Blu-Ray Edition Review:
'Houston We Have A Problem' - CD review:
'The Elvis Files Vol. 1 1953-56' In Depth Book Review:
'A Boy From Tupelo' special In-depth Review:
Bootleg Elvis (Book Review)
Did You Miss these Popular Interviews?
Interview: 'ELVIS UK3' authors John Townson & Gordon Minto:
Tony Plews - 'Walk A Lonely Street' - INTERVIEW:
Sally Hoedel (author of Destined to Die Young) talks to EIN:
French Fan Club President - Jean-Marie Pouzenc Interview:
(Interview) Mark Duffett (Elvis Roots) - talks to EIN
:
Loanne Parker interview - Col Parker's widow talks
Ed Bonja RIP

- EIN exclusive Interview
(Interview) Eric Wolfson, author of 'From Elvis in Memphis':
(Interview) Richard Zoglin (author of Elvis in Vegas) talks to EIN:
Ken Sharp Interview 2019:

Elvis 1969

& more..
'Return Of The King' Gillian Gaar Interview:
Larry Geller talks to EIN - 2019:
Dave Hebler Interview Part Two

with EIN:
Alan Hanson

'Elvis: The Movies

' Interview:
Millie Kirkham - Bob Hayden Interview for EIN:
Elaine Beckett -Easy Come Easy Go costar- Interview:
Shirley Dieu, author of Memphis Mafia Princess, talks to EIN:
Interview With Elvis author - : Gillian G. Gaar
Interview with Dick Grob, Elvis' Head Of Security:
Hollywood veteran Michael Hoey talks to EIN:
Interview with 'Elvis Films FAQ' author Paul Simpson:
Elvis Music FAQ - Mike Eder Interview:
"My Fast Life" Rare Elvis Presley 1964 Interview:
John Wilkinson Tribute & 1972 Interview:
RIP - Bernard Lansky talks to EIN:
Allyson Adams 'The Rebel and The King' Interview:
Interview with Elvis Photographer Dagmar:
Linda and Sam Thompson in Australia:
John Wilkinson Tribute & 1972 Interview:
Allyson Adams 'The Rebel and The King' Interview:
Joseph A. Tunzi
David Stanley (2012)
Vernon Presley Interview:
Jerry Leiber Interview for EIN
Elvis Paradise Hawaiian Interview - with Peter Noone
Sam Thompson, Elvis' bodyguard, 2011 Interview
James Burton Interview - Rick Nelson & Elvis:
Elvis Drummer Jerome "Stump" Monroe EIN Interview:
Donnie Sumner Remembers his friend Sherrill Nielsen:
Lamar Fike EIN Exclusive Interview
Ernst Jorgensen interview about 'The Complete Masters' and more:
D.J Fontana Interview - Elvis Week 2010 special:
Red West Interview:- 2010 Elvis week special
Linda Thompson - Interview Special:
Elvis in 1969 - Ann Moses & Ray Connolly Interviews:
Ernst Jorgensen interview about 'On Stage' and Elvis' Legacy in 2010:
Dr. Nick talks to EIN
Larry Geller
Mac Davis
Roger Semon
Ernst Jorgensen
Wayne Jackson (Memphis Horns)
Ernst Jorgensen (Record Collector)
Did You Miss these Popular EIN articles
"ELVIS 1969" Documentary -

EIN Review:
Spotlight - Why We Should Take Elvis Fans Seriously:
NOW UPDATED

- 'ELVIS In The 2010s' A Personal Review of the Past Decade:
ELVIS Forever

- 2019:
-
Elvis LIVE Aug 23, 1969

Album Review + Elvis Concert Review 1969
'Counting Down Elvis'

Finest 100' Spotlight:
'What was Elvis searching for?' EIN Spotlight:
The Memphis Sessions

- 50 Years ago Today:
'Orgies and Orgasms: Presley in the Press 1956'- an in-depth
DJ Fontana Obituary and Interview:
Trying To Get To You: The Truth Behind The Elvis And Roy Orbison Show Rumours:
'Money Honey' - EIN Spotlight:
'Marty Lacker: A Life Well-Lived' & Elvis at American Studio's Interview
'Secrets and Lies: Getting to the Truth about Elvis' Christmas Album':
All Shook Up - EIN Spotlight:
UPDATED -

Elvis and the Coco Palms Resort:
'Elvis Meets The Beatles':
Did Elvis Record 'Tiger Man' At Sun?
'Trains, Jet Planes and Morning Rain' EIN Spotlight:
Wertheimer's Reaction To Finding The 'Mystery Kisser':
UPDATED -

'Elvis Madison 1977 - The Gas Station Incident' with Kathy Westmoreland:
"If You're Going To Start A Rumble" -The Importance of Fights In Elvis Movies:
UPDATED -

'American Studios 1969 - A Turning Point In History':
Elvis' Personal Record Collection:
Linda and Sam Thompson in Australia:
Fourteen Key Elvis Singles:
Happy Birthday EIN EIN turns 100 – a retrospective!:
Elvis Week Through The Years - Sanja Meegin looks back:
'The Wedding' Elvis & Priscilla EIN special Spotlight:
John Lennon And Elvis:
It was "Thirty Years Ago Today"
Elvis at Madison Square Garden 40 Years Ago
'Elvis In Ottawa' Spotlight & Elvis Interview:
"Kissed By Elvis" Janet Fulton Interview:
'1956, Elvis Presley's Pivotal Year':
'Elvis In Concert' 1977 TV special; Should it be released officially?
Ernst Jorgensen interview about 'The Complete Masters' and more:
Dark Side of the Colonel
Audio-Visual
Graceland cam
EPE's Multimedia Elvis Gallery
Sirius Elvis Satellite Radio
Elvis Radio (ETA's)
Elvis Express Radio
Ultimate Elvis Radio
Elvis Only Radio
"Images in Concert" PhotoDatabase
Radio Interview: Vernon & Gladys Presley
Sanja's Elvis Week 2007 Photo Gallery
'EIN's Best of Elvis on YouTube'
The Music of Elvis Presley - Australian Radio Show
Reference
All about Elvis
All about Elvis Tribute Artists
All about Graceland
All about Lisa Marie Presley
Ancestors of Elvis
Art Archives
Book Releases 2009
Contact List
Elvis and Racism
Elvis as Religion
Elvis CDs in 2007
Elvis DVDs in 2006
Elvis Film Guide
'2007 New Releases'
Elvis Presley In Concert "downunder" 2006
Elvis Online Virtual Library
Elvis Research Forum
Elvis Rules on Television
Graceland - The National Historic Landmark
How & where do I sell my Elvis collection?
Is Elvis the best selling artist?
Links to Elvis' family & friends
Links to other Elvis sites
Marty's Musings
Online Elvis Symposium
Parkes Elvis Festival 2009 (Australia)
Presley Law legal archives (Preslaw)
Presleys In The Press
Sale of EPE (Archives)
6th Annual Elvis Website Survey
Spotlight on The King
"Wikipedia" Elvis biography