'Kissin' Cousins'
FTD Soundtrack Album
- Review by Ian Garfield -
The final Elvis movie soundtrack album in FTD's Classic Album series.

Kissin' Cousins was Elvis' 14th movie release and it was Elvis' first budget movie production.

The 'Kissin' Cousins' album was released in April 1964 and it was his lowest charting soundtrack album so far.

About the release UK Fan Club President Albert Hand stated, "Here we have an artiste, the finest in the world, being slowly but surely – as a chart prospect – being killed off inches by inches through sheer stupidity".

Elvis didn't attend the soundtrack session in Nashville and so there is very little available in studio outtakes.

However FTD have assembled a packed CD and EIN contributor Ian Garfield checks out this new FTD soundtrack album to discover some gems hidden in the mountain dirt..
---
Kissin' Cousins was Elvis' 14th movie release, although of course it was filmed after Viva Las Vegas. The "Lost Album" session had only been four months previously and the preceding Viva Las Vegas sessions were just a few weeks beforehand. This had proven that under the right circumstances and with some good up-beat compositions even Elvis' soundtrack sessions could produce some better than average material.
Sadly any hope of maintaining some real quality in his movies was completely dashed by the Colonel who demanded the lowest budget production for Elvis' follow-up to Viva Las Vegas. Kissin' Cousins was Elvis' eleventh film in under four years, no wonder they began to have a production-line feel.
The soundtrack session was planned for September 29 and 30,1963 at Nashville's Studio B, however Elvis had a bad cold and didn't attend. It is of course possible that Elvis had listened to the selected songs and decided that they just weren't worth the effort. Nevertheless at the time '(You're The) Devil In Disguise' had been a recent worldwide smash, The Beatles had yet to arrive in America, Viva Las Vegas had been an enjoyable production and so there should have been some hope.
Unfortunately any high expectations would be dashed when Elvis' publishers just could not come up with any worthwhile soundtrack material. Perhaps this is not surprisingly when both the Viva Las Vegas and 'Lost Album' sessions had taken place in the previous four months. Kissin' Cousins soundtrack would be supplied by the usual writers with one set of composers, Giant / Baum / Kaye, supplying half the material, never a good sign.
Nicely demonstrating the production line approached Elvis' soundtrack material Elvis' publishers couldn't even be bothered to come up with different names for the songs, calling two of them 'Kissin' Cousins' and 'Kissin' Cousins (Number 2)'. This shows the truly laughable and unimaginative nature of Elvis' soundtrack collaborators..

Original Chart Releases
'Kissin' Cousins / 'It Hurts Me' was released in February 1964. The A-side reached #12 on the US Billboard charts with the infinitely superior 'It Hurts Me' also charting at #29.
Kissin' Cousins LP charted at #6, Elvis' lowest charting soundtrack album so far.
The Nashville band was the core group of Scotty Moore supported by excellent guitarists Grady Martin, Harold Bradley and Jerry kennedy all wasted on this inconsequential material. D.J. and Buddy Harman played drums with Boots Randolph also joined by Bill Justis who had worked at Sun Records. Country fiddle was supplied by Cecil Brower while The Jordanaires were augmented by Millie Kirkham, Winnifred Brest, and Dolores Edgin for the required female chorus. The studio engineer was the great Bill Porter but the whole team was squandered since Elvis could not attend the session.
Without Elvis' presence in the studio there was no driving spark or interaction to help lift the songs above mediocre. The musicians play professionally, but perfunctorily, having no leader to bounce off. At the overdub session Elvis sometimes tried to add some enthusiasm but his vocals sound disconnected to the band, often sounding as if he is only reading the lyrics, which he was!
With Bill Porter in charge thankfully the mix is better than the usual MGM recordings, with the band placed across both channels. However since all the tracks were finished with vocal overdubs the following month on the MGM soundstage in Hollywood this added the inevitable annoying tape-hiss. As previously noted, Elvis did not like recording on these cavernous soundstages but with such a low budget there was no other option. Listening to the album you can easily imagine Elvis standing there alone reading the lyrics.
---
'Kissin' Cousins' FTD Classic Album review

The new FTD release of Kissin' Cousins means that all of Elvis' scripted movie soundtracks have finally been released via the Classic Album series. FTD put out their first Soundtrack Classic Album 'Fun In Acapulco' fifteen years ago, in May 2003, and it has been a wonderful ride with some high-quality releases along the way.
This album consists of 32 tracks – the original 12 track LP plus outtakes, unedited masters, tracks and instrumentals. It is obvious that there was not much "in the can" to release – so what are we getting in this offering?
The Cover
It has the updated stereo version LP cover on the front. Inside on page 2 it has the "cartoon" movie poster with cast and crew to the right. The centre holds the CD with side 1 label on the CD and side 2 on the page. To the right is a nice publicity shot of Elvis in a blue shirt with a red background. Folding back, we have the original back cover of the LP and on the back cover we have a nice shot of Elvis on the left with a red shirt and blue jacket and on the right the track listings.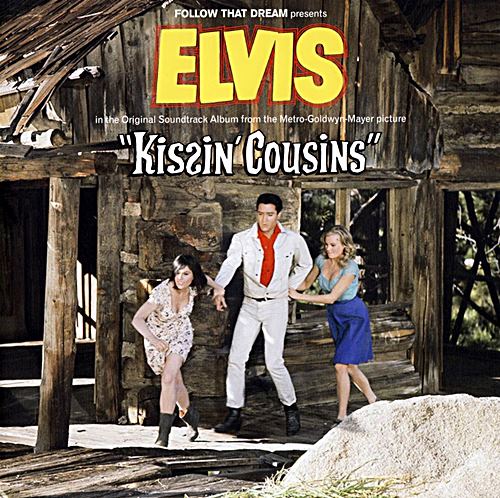 The Booklet
The 16-page booklet cover features an action shot from the movie with Elvis, Yvonne Craig and Pam Austin while page 2 has the track listings and credits. It has a shot of Elvis in his Air Force uniform looking very cool. Page 3 has four lobby cards to the left and a publicity shot of blonde Elvis with Cynthia Pepper. Page 4 and 5 has an informative article written by Alan Hanson in 2008. It is surrounded by background black and white stills of Elvis sporting the blonde wig on set. Pages 6 and 7 has a variety of film and publicity shots.
I like the one where you can see Elvis' movie double – Lance LeGault.

The middle pages consist of singles, memorabilia and music sheet photos.

Other pages feature the original LP cover and the updated version, publicity shots of Elvis with red shirt and blue jacket, promos for the LP and single, with a bonus shot of Priscilla and Elvis at the publicity launch. There is basic session data but unfortunately it only has the recording dates and musicians – there is no information on takes or final masters.
In the past FTD always included the "In and Outtakes" section which usefully detailed the recording sessions and how the Master takes and outtakes came to be recorded. Disappointingly this does not appear here. Listening to all these multiple takes it would be nice to confirm how the instrumental takes and Elvis' later Voice-Overs were assembled for release.
Pages 12 and 13 consist of movie posters, promos and correspondence letters. Pages 14 and 15 details Cinema premieres, Movie trivia, Record releases and soundtrack trivia along with overseas promotional photos. There is a funny photo of a blonde Elvis with the Colonel sporting the movie doubles black wig.
The trivia includes this interesting comment from Albert Hand (UK fan club President) who noted at the time, "The sound of Kissin' Cousins is approximately two years old! On that kind of stuff the Americans are behind the times . .. The situation regarding Elvis' records gets worse and worse. Here we have an artiste, the finest in the world, being slowly but surely – as a chart prospect – being killed off inches by inches through sheer stupidity". This statement from the usually very "pro-Elvis" Albert Hand is perceptive for the time.
On the back cover of the booklet is a nice portrait shot of the Tatum family.
The audio quality has always been a little poor / hissy on this Elvis release despite the tracks being recorded at Studio B Nashville. This was the last session Bill Porter ('Elvis Is Back' etc) engineered for Elvis so someone down the line, presumably at MGM, must have degraded the production by using multiple generational copies. Even the basic Nashville Instrumental tracks here still have unnecessary tape hiss.
With Elvis doing vocal overdubs at the MGM soundstage this unfortunately made the sound even more muddied and hiss laden.
The Music
I have watched the movie Kissin' Cousins twice over the last month and being kind – it is general "family entertainment" with the bonus of having Elvis playing two parts. It is worth watching again – even if it is just for the scenes with the two Elvis' and how they edited it. The worst part of editing is the finale "Kissin' Cousins" song. It is all over the place. I wondered what Elvis thought of the final product?
However, going into the studio he would not be really aware for what he was recording for in the final scenes, so with the music I have taken that approach. I am going to listen to what is available and base it on the music and not the scenes in the movie.
It has been noted that Elvis had a bad cold and so didn't attend the first Studio B session. To keep the budget down they decided to split the sessions with the band still laying down the rhythm tracks at Studio B but then using a MGM soundstage for Elvis to supply his vocal overdubs at a later session. Unfortunately this stopped there being any energy between singer and musicians. It also did not provide any outtakes, as they only wanted the final master. The instrumental tracks were recorded in RCA Studio B, Nashville on September 29th and 30th 1963. This added a nice touch with more of a country feel location.
The full list of musicians is outlined in the booklet. (I think it funny that they have credited Boots Randolph for his work on the "jug".) The vocals were recorded on October 10th and 11th 1963 at MGM Studios, Culver City.

Despite having so few outtakes on offer FTD have created a packed CD of 74 minutes although fans should be warned that half of it is pure instrumentals.

Track 1 "Kissin' Cousins (Number 2)" - Master take 4 and was written by Giant/Baum/Kaye who have five songs on side one of the LP. This is the Movie main title version. It is very lightweight, mid- tempo song and not a really exciting start for movie credits: it only runs 1:17 and was the weakest start to any Elvis album so far. Even Elvis does not sound too uplifted by this track. The unedited master ran almost twice as long. With side 1 of the original LP running less than 13 minutes it is unbelievable that RCA didn't use the full-length version.
2. "Smokey Mountain Boy" - Master take 3 and penned by Lenore Rosenblatt/Victor Milrose. Cool drumroll intro and Elvis sounds a little more interested with this one. Nice touch of background whistling and banjo. This mix has Elvis a bit in the back"woods" territory. However, you couldn't really call this a great country track. The full instrumental backing track was much longer and edited to fit.
3. "There's Gold in The Mountains" - Master take 3. While quite a basic song it however elevates and gives Elvis a chance to display some vocal range. Some nice accompaniment from Millie Kirkham and Winnifred Brest, but a little distracting. Tracks like this truly needed Elvis to be in the studio in order to get the backing-vocals working more sympathetically but, in any case, this was one of those "made for movie" songs.
4. "One Boy, Two Little Girls" - Master take 2. This is a ballad where Elvis sounds like he is just going through the motions. During the bridge he sounds a little flat and strained. I just could not imagine this song being strong enough for even a B-side of a single.
5. "Catchin' on Fast" - Master take 7. With a nice flow, good beat including some energetic electric keyboard by Floyd Cramer this is again let down by being so badly edited. Just as it gets "going" there is an abrupt stop at 1:22. In fact the full-length master had the second verse edited out along with a terrible cut at the end. What were the producers gaining by such lame editing? The full unedited master on track 14 is much better.
6. "Tender Feeling" Master take 1 and pretty good to get in one take. I remember buying the cassette "Burning Love and hits from his movies Vol 2" and really liking this song. I liked the piano and string guitar in it. I thought this would have been worthy as a B-side, possibly, even replacing "It Hurts Me" for the "Kissin' Cousins" single.
7. "Anyone (Could Fall in Love with you)" Master take 3 is a perfect follow-up to Tender Feeling. Originally the first track on the second side of the album this is a delightful stand-alone ballad. Another song that gives Elvis some range to work with. Surely the best track from the session, inexplicably it was not only cut from the movie but also still remained as a "Soundtrack song" on the LP. Good backing from The Jordanaires.
8. "Barefoot Ballad" Master spliced takes 2 and 4. Most things about this song are just wrong. The title for a start. It is a mid-tempo violin slinging, jug blowing, banjo plucking mix up of a so-called "good ol' boy" song. Wow!, we even get some counting some toes in there too. The "jive toe" just wants me to get up and dance to this absolute embarrassment. Even Elvis couldn't manage the vocal overdub without it being edited together. He must have hated recording it. Like 'Old MacDonald' he should have said 'No'. Poor Elvis.
9. "Once Is Enough" Master take 7 and what a great bit of advice title after the last song. A good little rocker with some great work on the sax from Boots Randolph. I think Elvis might have got more into this song and possibly offered us some better work if he had been in the studio to record with the musicians, as the band do get a little raunchy with this one. If Elvis had been there they could have truly let loose.
10. "Kissin' Cousins" Master take spliced from take one natural voice and take two hillbilly voice. I have always liked this song, as it has a good beat and rocks along nicely. For years I didn't realise it was supposed to be an Elvis duet. I wonder what the general public thought when they first heard it back in 1964? I think it still holds up ok for its age. The band is pretty tight for this song and it did make a good finale song in the movie. When released as a single with "It Hurts Me" as B-side it did get to number 12 on the US Billboard chart. It did get a number 2 on the Denmark chart at the time.
"Also"
11. "Echoes of Love" and the first of two "bonus songs" on the original album. Recorded in Nashville with "(It's a) Long Lonely Highway" May 26 and 27, 1963. It is a smooth Elvis sounding out a mid-tempo ballad and having him back in the studio certainly makes up for it. It has quality lyrics written by Bob Roberts/Paddy McMains. It was from the session that dispersed mainly all the music to A/B side singles and "bonus songs" to the LP's. Some great extra takes can be heard on the excellent FTD Classic Album "Memphis, Tennessee".
12. "(It's a) Long Lonely Highway" – alternate take 2, the last song on the original album. In 1965 Take 1 was used for the single and film version for "Tickle Me". This is a great upbeat song that moves along nicely. Elvis' voice is great and he seems to be enjoying the track. It is a great "driving" song and I can see why they used it for the Title opening of "Tickle Me". Alternate takes can also be found on the above mentioned "Memphis, Tennessee".
Elvis on the movie set in his blonde wig - from page 4 of the booklet
Outtakes, Unedited Masters, Tracks and Instrumentals.
13. "Kissin' Cousins" (number 2) Unedited Master. This is great as it has extra lyrics that were obviously cut from the original take. I don't want to spoil the changes, but to say they fit in well and are funny makes it worth listening to this track. I somehow think the lyric phrases might have been too cheeky to release or taken the wrong way at the time of original release. Makes me think of the alternate lyric versions of "Bossa Nova Baby" and "I'm A Roustabout". The audio is still hissy but it is better than the final release being a dry mix with the added echo missing.
14. "Catchin' On Fast" unedited master and is another treat and better than the original. Not only being another 40 seconds longer and again an extra verse that was edited out. It also has a different or original ending, depending on how you think of it with the band playing the outro. I like this new version and it's crazy that they didn't include it on the original album.
15. "Anyone (Could Fall in Love with You)" voice-over Take 2, alternate master. One of the best in this collection, Elvis obviously put some effort into this song, it has good lyrics and the musicians were on the mark. Keith Flynn's informative website states that it was the "Movie Version" (the FTD booklet does not say) and it is notable that The Jordanaires have been faded out. Elvis plays with his voice on the final note which he didn't on the Master take. With less echo and less hiss this is a treat.
16. "Kissin' Cousins" hillbilly vocal. The complete "Hillbilly" vocal which was combined with his regular vocal to create the single version. Nicely done but surely it would have been better to use this only in the movie.

17. "Kissin' Cousins" regular vocal. This is a treat and it is nice to hear the difference in both versions of this "Elvis duet". It shows how they spliced the two versions for the final master. I was surprised that Elvis did a complete take in his regular voice. A nice improvement on the rather strange edited duet, surely this should have been the vinyl release.

18. "Barefoot Ballad" partial voice only of takes 2 and 4. This is an interesting track since it provides an insight into how Elvis attempted to get this song together live in the studio. It is a short excerpt demonstrating how frustrating this track must have been to record. Elvis doesn't sound that enthusiastic.

19. "Barefoot Ballad" Instrumental. The first of the instrumentals and why not keep it going with "Barefoot Ballad". This differs from the backing-track and sounds more like incidental music for the movie. It is completely different.

20. "There's Gold in the Mountains" Instrumental presumably for film. Again it sounds a lot different to the vocal version.

21. "Pappy Won't You Please Come Home" (take 6) sung by Dolores Edgin. The first song recorded at the Nashville session. This song is not that bad and sung well, but I can only say "added for historical purposes".
22. "There's Gold In The Mountains" track takes 1 and 2. Now it's karaoke time! The musicians-only backing-tracks for all ten songs on the album. While it is a bonus to check out some very fine musicians at work but you can easily tell that had Elvis been in studio there would have been an extra spark and some more excitement. What stands out on this track is that the rather shrill female vocals stand out more than before. Obviously needed for the movie version, I don't think they should have been added to the final release.
23. "One Boy, Two Little Girls" track take 2. This actually sounds pretty good as a track on its own. It shuffles along nicely. The tape hiss is bad.
24. "Once is Enough" track take 1. I have to say the band is very tight and professional getting most of these tracks done in one or two takes. Boots Randolph's sax sounds heaps better in this version and I like the ending. They do a few versions of the ending.
25. "Tender Feeling" track take 1 which I think it holds its own for a backing-track, again, complementing the musicians on some enthused work. Unfortunately this track sounds more muffled than on the master.
26. "Kissin' Cousins" (Number 2) track, and again take 1. This rocks along nicely with some great work from Boots being more prominent on the track. It revs up at 1:30 and has a longer outro.
27. "Smokey Mountain Boy" track take 1 intro and take 4 Master. It just makes you want to get up and march and of course "whistle". A light hearted track. The track goes longer than the vocal track and was edited down to create the album version.
28. "Catchin' On Fast" track take 1 and ending take 2. Nice electric piano work on this one, that I didn't notice as much on the vocal track. It does make you want to go back and listen again to the songs and see what extra you can pick up on. There is a marvellous chaotic ending on the first take with Bill Porter remsing them, "You gotta' push it a little on the ending".
29. "Barefoot Ballad" track take 2. Great! A full 3 minutes of jug blowing, foot tapping, pipe blowing craziness. Some cheeky background vocals too!
30. "Anyone (Could Fall In Love with You)" track take 4. Once again you pick up the sound of background instruments and vocal accompaniment more prominently. It has a nice sound to it and it does feature The Jordanaires.
31. "Kissin' Cousins" track take 1. This rocks and one to sing along to. Try not to! This time the last 30 seconds of the backing-track was looped so as to enable a repeat of the final chorus, "Yeah we're all cousins.. ". You can hear the Buddy Harman jazzy drum ending at 01.30 in the Master after which the track then restarts. Thus the backing track lasts 1:30, yet the master runs 2:14.
32. "Tender Feeling" vocal only for take 1 master. This is a great vocal track to finish off the CD. It is nice to hear the pure Elvis and this is a good choice for assessment. You can just hear a little of the music track in the background. It is like what Elvis would have picked up in either his headphones or the speakers in the studio.
Audio restoration and mastering by Sebastian Jeansson.
Mixes by Vic Anesini and Sebastian Jeansson.
Overall Verdict: With so little 'Kissin' Cousins' Elvis session material available it is amazing that FTD have created such a full CD. This soundtrack release is nicely packaged with good quality photos and some interesting memorabilia and with some excellent alternate takes. I have noticed on some sites w ith comments like – "only listen to the first half of the CD" and "there are no mono versions". I can understand some fans wanting the mono versions, but if there was a choice I actually prefer what FTD has given us with some instrumentals, tight rhythm tracks and some new lyrics in the Unedited Masters. Compared to the 'Viva Las Vegas' sessions from a few weeks before there is no doubt that Elvis sometimes sounds uninspired and is just going through the motions. I can only say that this is an album that does not take itself too seriously but tries its best to entertain with a variety of tracks that display what is was like, back in 1963, to get a soundtrack album out, Elvis' third of the year. The mixes are crisp and the music sounds as best it will probably get, but you get to enjoy some karaoke with the backing-tracks and that can't be all that bad. If you are a fan who liked the original 'Kissin' Cousins' then you will have some real fun listening to this extended version!




Review by Ian Garfield - extra notes supplied by Piers Beagley.
-Copyright EIN February 2018
EIN Website content © Copyright the Elvis Information Network.
Click here to comment on this review
---
'Kissin' Cousins'
FTD December 2017 release #506020-975120
Compilation produced and art directed by Ernst Mikael Jørgensen & Roger Semon.
Mastered by Sebastian Jeansson and Vic Anesini.
- - The Original Album
1 Kissin' Cousins (Number 2)
2 Smokey Mountain Boy
3 There's Gold In The Mountains
4 One Boy Two Little Girls
5 Catchin' On Fast
6 Tender Feeling
7 Anyone (Could Fall in Love with You)
8 Barefoot Ballad
9 Once Is Enough
10 Kissin' Cousins
"Also"
11 Echoes Of Love
12 (It's a) Long Lonely Highway
- - - Outtakes, Unedited Masters, Tracks & Instrumentals
13 Kissin' Cousins (Number 2) (unedited master)*
14 Catchin' On Fast (unedited master)*
15 Anyone (Could Fall in Love with You) (v.o. take 2 / alternate master)*
16 Kissin' Cousins (hillbilly vocal)*
17 Kissin' Cousins (regular vocal)*
18 Barefoot Ballad (vocal overdub, take 2 & pickup take 4 - partial)*
19 Barefoot Ballad (instrumental)*
20 There's Gold In The Mountains (instrumental)*
21 Pappy Won't You Please Come Home (Dolores Edgin vocal, take 6/M)*
22 There's Gold In The Mountains (track, takes 1-2)*
23 One Boy Two Little Girls (track, take 2)*
24 Once Is Enough (track, take 1)*
25 Tender Feeling (track, take 1)*
26 Kissin' Cousins (Number 2) (track, take 1)*
27 Smokey Mountain Boy (track, take 1-intro & take 4/M)*
28 Catchin' On Fast (track, take 1 & ending take 2)*
29 Barefoot Ballad (track, take 2)*
30 Anyone (Could Fall in Love with You) (track, take 4)*
31 Kissin' Cousins (track, take 1)*
32 Tender Feeling (vocal only, take 1/M)*
* Previously Unreleased
---
---
'Roustabout' FTD Soundtrack Review: Roustabout was Elvis' 16th movie, it had been five months since Elvis' last album session and his publishers had a chance to secure soundtrack material from a variety of composers. Eleven songs were needed and while the carnival theme stopped most of them having any inspired lyrics, at least the composers Leiber / Stoller and Otis Blackwell were included in the selection.
Reaching #1 on Billboard in early 1965, it would Elvis' last chart topping album until "Aloha From Elvis Via Satellite" in 1973.
53 years after its original release FTD is pleased to announce the long awaited "Classic Album" version of "Roustabout". Packaged in 7" format with a full colour 16-page memorabilia booklet, it contains some previously unreleased material.
So why has it taken FTD so long to release? It was once noted that only the masters had been located in the vaults, so there was not much to include for a "Classic Album"...
Go here as EIN contributor

Ian Garfield

examines this new FTD soundtrack release and checks out what's new.
(FTD Reviews, Source;ElvisInformationNetwork)
---
---
---
EIN Website content © Copyright the Elvis Information Network.
Elvis Presley, Elvis and Graceland are trademarks of Elvis Presley Enterprises.
The Elvis Information Network has been running since 1986 and is an EPE officially recognised Elvis fan club.